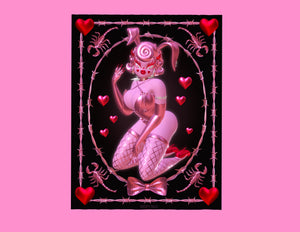 3d Rhonda Rabbit - 8.5"x11" Poster Print
3d Rhonda Rabbit - 8.5"x11" Poster Print

Add a playful and seductive touch to your space with our Sexy Pink 3D Rhonda Rabbit Art Print. This bold and vibrant piece features a stunning 3D pink bunny that is sure to catch the eye and ignite the senses.
Our art print is made of high-quality paper that ensures long-lasting beauty and vivid color reproduction. It's the perfect addition to your bedroom, living room, or even your office, creating a fun and sexy atmosphere that inspires creativity and sensuality.
With its alluring design and bold colors, our Sexy Pink 3D Bunny Art Print is perfect for those who appreciate unique and provocative art pieces. It's a great conversation starter.